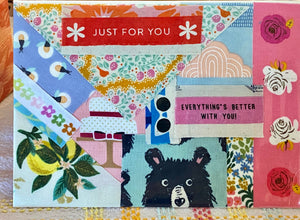 Happy Mail Cards with Fabric Scraps
Who doesn't love to get a real card in the mail?  Happy mail doesn't quite cover how great it feels to open the mailbox and find that someone has sent you something that isn't a bill or junk mail!
Between the pandemic and the heat, we're missing those human connections more and more lately, so now and then, we sit around the dining room table and work on drawing, painting or making cards to send to friend and family near and far.  Anticipating the recipient's surprise makes it that much more fun.
Our latest favorite project uses selvedges and little scraps of fabrics.  Fabrics come with some pretty fun selvedges these days. We save them up, along with some bits of scrap fabric, and using our trusty glue pens (Sewline is our favorite), we lay them out and make a unique card to send to someone special. 
The front of the card is sealed, turning it into a nice keepsake to bring a smile beyond opening the mail. 
Easy enough for kids and not nearly as many possibilities to overthink it for the grown-ups as making a quilt or other project!
We've got a few card kits in the Notions section.  They include the blank card and envelope, along with enough selvedges and coordinated scraps to complete a card and an instruction sheet, or use your favorite crafty method to create your own.
In no time, you'll be able to make up a pretty card, add a sweet note and brighten a friend or family member's day with some happy mail!