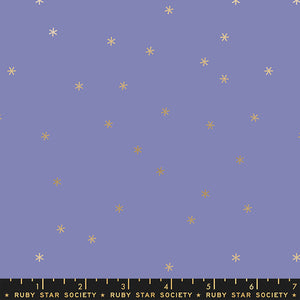 Sold by the half yard (18" x width of fabric). Multiple units cut continuously.
You know that moment when the sun is going down and the evening sky starts to turn from true blue to a touch of purple under the blue?  That.  Plus shimmery gold stars.

A gorgeous compliment to all kinds of fabrics, but especially perfect with many of the Ruby Star Society fabrics. 
100% Cotton
Retail Price per yard is $13.00