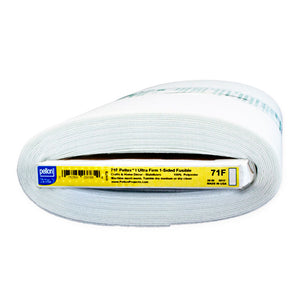 Sold by the 1/2 yard (18" x 20" WOF). Multiple units are cut continuously.  
Retail price per yard is $9.50 USD
Pellon® 71F Peltex® I One-Sided Fusible is an ultra-firm, smooth, heavyweight stabilizer for accessories, crafts, home decorating, machine embroidery, and quilting. It is easy-to-sew, even when sandwiched in between other fabrics. Peltex® I will not flatten out or be distorted with steam pressing. It has no grain and can be cut in any direction.
Moonlight Quilters uses this product in the Snow Globe Ornament kits, and for postcards, fabric baskets and buckets.  It's a great product for all kinds of crafts and sewing projects.
Non-Woven
White
100% Polyester
20″ by-the-yard width
Easy to sew
Heavyweight fusible stabilizer
Machine wash warm. Tumble dry low or dry clean.
Sewing machine safe.