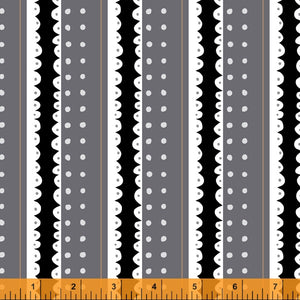 Sold by the half yard (18" x width of fabric); multiple units cut continuously.
This unique stripe has an extra special purpose for binding!  Cut on the straight lines and fold in half lengthwise.  Use either the scallop or dot side for your binding for a fun look!  
Sew Good is the debut collection for Deborah Fisher (aka Fish Museum and Circus) with Windham Fabrics.  She makes all kinds of happy fun items, including quilts, and this collection is a full on celebration of sewing!
The collection is inspired by her popular handmade ceramic and wool pincushions.