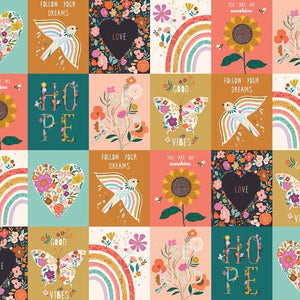 Sold by the 1/2 yard. Multiple units cut continuously.
Who can't use some words of encouragement?  The patches on this print measure 4" x 5" and alternate positive words such as "Be Kind" "Follow Your Dreams" "Hope" "You are my Sunshine" with florals, butterflies and rainbows. 
We can picture this in so many cute projects as well as quilts.  The patches can be cut apart and used as a quilt label, as part of a bag or kept in bigger pieces.  It's all up to you!
100% cotton