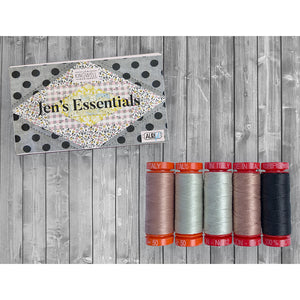 Quilt Recipes is the latest book from Jen Kingwell (available in our book collection), combining her love of quilting with her love of baking, which was passed down to her from her mum.
Jen's passion is hand stitching, both piecing and quilting. She has used Aurifil thread from the day it was released in Australia, and this collection contains all of her essentials.
Every project in Jen's new book has used these Aurifil threads. 
Collection Details: 3 Small Spools 12wt: 2375, 6724, 4241 2 Small Spools 50wt: 2375, 6724