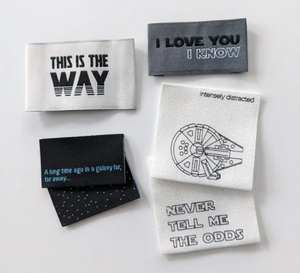 Love a variety? Now, you can get one of each of these Star Wars inspired designs.
Each pack contains 4 labels. You will receive 1 of each:
-Never Tell Me the Odds (cotton, double sided) -
-In a Galaxy Far, Far Away (woven, double sided)
-This is the Way (woven)
-I Love You I Know
Machine wash cold, tumble dry low or line dry.
Because of the nature of this product, the two raw edges can fray. To prevent fraying, sew both ends into your garment, finish edges, or use a fray check solution.