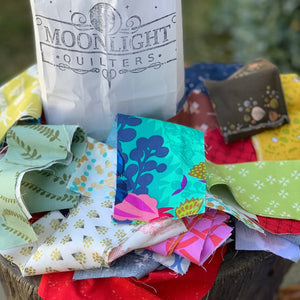 A 1/2 pound bag of scraps is equivalent to nearly 2 yards of fabric.  
Our scrap bins fill up fast with fabrics from Moda, Free Spirit, Cotton + Steel, Ruby Star Society, Riley Blake, Dear Stella, Figo and many more.  If you're in need (or want) of scraps we've got you covered!
Medium to large scraps are at least 2" wide, with most significantly larger.  
If you're looking for primarily small scraps, pick the Little Bit of Magic option.  These are generally less than 2" scraps.
* these are truly mixed scraps and not coordinated.  The scraps pictured are an example of reaching in the scrap bin to fill a bag and each bag will vary.