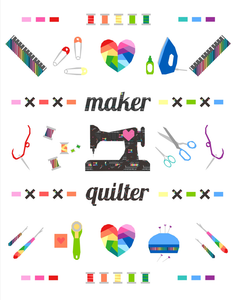 Please note: This listing is for a PRE-ORDER.  The bundle will not ship until June.  The Pattern Club launches on July 7.
We are delighted to be partnering up with Kristy again for the 2nd Quiet Play Pattern Club of 2023! 
Her new pattern club quilt "Make" is sewing themed to coincide with her new fabric collection, and is super fun!
The Quiet Play Pattern Club Rainbow Solids Bundle includes a fat quarter (18" x 22") of each of the 16 solids used in Kristy's Rainbow layout.  It also includes 1/2 yard each of black and white tone-on-tone fabric, plus a light and dark gray for the sewing machine and notions.  

Backgrounds shown in layout photos:

Riley Blake Designs Confetti Cotton Solid in White and Navy. 
Please note: background is sold separately and the pattern calls for 6 1/2 yards.  
 We have many solid backgrounds, as well as some prints that would work well.  
Backing and binding are not included in the bundle.
Patterns are only available via the Pattern Club with Quiet Play (Kristy Lea).  
To learn more about the pattern club, visit: www.quietplaydesigns.com