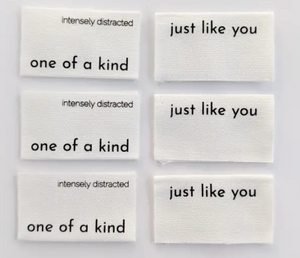 Each pack contains 6 end folded labels made of 100% cotton.
Made with eco-friendly materials, this is the softest label of the them all which makes it the least structured.
 Details:

-6 labels per pack.
-Center folded.
-Off white cotton with printed black words on both sides.
-1 5/8 in (40mm) x 15/16 in (22mm) after folded. -Machine wash cold, tumble dry low or line dry.
-Because of the nature of this product, the two raw edges can fray. To prevent fraying, sew both ends into your garment, finish edges, or use a fray check solution.