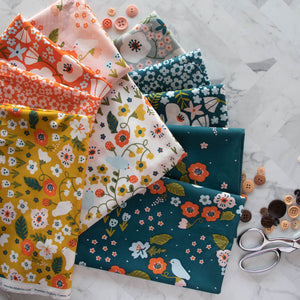 This fat quarter bundle includes all 10 prints from the Margot collection by Kristin Balouch for Birch Fabrics.
Fat quarters measure 18 x 22″.  Fabrics are printed on unbleached organic cotton poplin.
It is expected (but not guaranteed) to ship in March.
Pre-order items are given a 10% discount on the retail price and the reservation fee will be deducted from the price. 
The reservation fee for this item is $5.00
The retail price is $50.00; after the 10% discount the total is $45.00
You will be notified when the product arrives and invoiced for the $40.00 balance ($45.00 minus the $5.00 deposit). 
The reservation fee is non-refundable and the balance is due within 7 days of notification that the item is in stock.