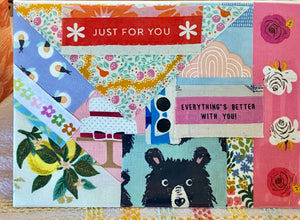 The proceeds from this pattern will be donated to rotating charities.   If you would like to donate more than a dollar, use the quantity button to increase the total amount for this pattern (e.g., a quantity of 5 will show $5.00 at checkout).
We have a lot of fun with glitter and social media swaps and a happy result from one of those swaps is this unique Moonlight Quilters Snow Globe Postcard Pattern.
The Snow Globe Glitter pattern includes instructions to make your own version of the snow globe postcard, and includes instructions for a non-snow globe glitter postcard variation.  Surprise someone with a special piece of happy mail!
This is the PDF version only available for instant download.