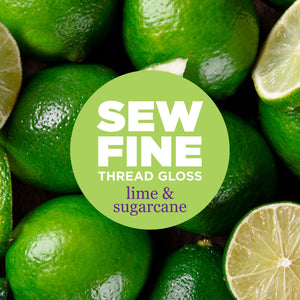 0.5oz pot of "Lime & Sugarcane" Sew Fine Thread Gloss. This thread gloss will make your mouth water! Bitter lime, fresh lemon juice, sunkissed orange and warm vanilla sugar make this scent a favourite!
No more tangled, knotted or static-y threads while you're hand-sewing!
To use: thread your needle and lay the thread close to the needle on the thread gloss. Using your thumb, put light pressure on the thread while you pull the thread along the top of the thread gloss. One or two light pulls should be plenty! Knot your thread and start stitching!