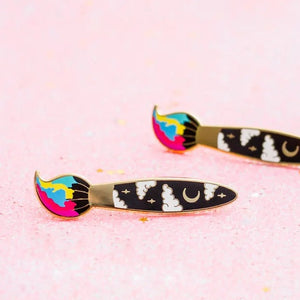 For an artist or crafter, this pin is a fun badge of honor. A paint brush with colorful screen-printed "paints," it will be sure to spark conversation. A rainbow brush, it is a beautiful thing.
Stamped with "The Gray Muse" on the back. Each polished gold-plated hard enamel pin comes mounted with a backing card.
This enamel pin comes with two rubber clutches. Size: 2.2" wide x 0.5" tall hard enamel pin.