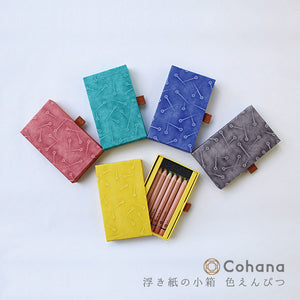 Ukigami is a type of Echizen washi paper produced with unique methods. This little drawer slides out of the box to reveal 6 high quality colored pencils produced by Camel Pencil Mfg.
Founded in 1939 and located in Tokyo's Arakawa Ward, Camel Pencil Mfg. is one of a few long-standing pencil manufacturers in Japan.
These pencils are easy to draw with and produce good color, including black in addition to the Cohana traditional Japanese colors of sage green, pink, gray, slate blue and yellow.
The wooden pencil shaft fits has a string wrapped around the top in the same color as the lead. These design makes sketching and handicrafts even more of a pleasure.

Finished to a compact size for easy carrying with the matching Ukigami blank book (also available). Remove the box's lining, and you can use it to hold things like cards, clips, buttons, and thread. 
Available in a variety of colors.