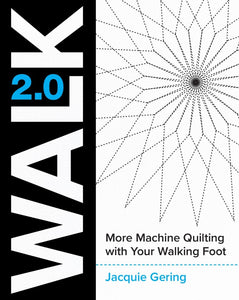 Jacquie Gering's straight line machine quilting books are the best! 
A lot of quilters are intimidated at the thought of doing their own quilting but Jacquie's designs all start with straight lines - you can do that!  We were intimidated too, but after reading her instructions, and starting off with some small quilts and her straight line patterns, we've been flying along!
Walk 2.0 is her second book, and includes many new designs and patterns, with clear, easy to follow instructions.  She's also included the same quilt done in a variety of designs to give guidance in deciding which patterns best suit your quilt.  
This book is jam-packed with point-to-point designs, sashiko-inspired machine quilting designs, and innovative repeated concentric simple shapes. Walk 2.0 is a must have that will appeal to any quilter who wants the control of a walking foot, but the look of beautiful custom quilting.